Title
A Short History of Munson Medical Center
Creator
Munson Medical Center
Institution
Munson Medical Center
Subject
Hospital Planning
Subject
Munson's history is tied to that of Traverse City and the Traverse City State Hospital.
Subject
NULL
Item Number
CK01h003
Relation
NULL
Type
text
Format
tiff
Description
Article in quarterly newsletter with a detailed history of Munson Medical Center from 1881-1990. Photographs include: the original site of Munson Medical Center located at the southwest corner of 11th Street and Elmwood; a photograph of a street scene of Traverse City in the early 1900's; a photograph of patients kept in the hospital corridors due to overcrowding in the 1940's; a photograph of an aerial view of the 55-bed James Decker Munson Hospital in 1936; a photograph of a 1960's view of Munson Hospital with an insert of an unidentified surgical team.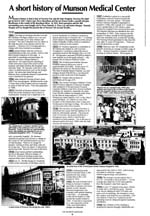 The Making of Modern Michigan
was funded by the
Institute for Museum and Library Services
, an independent federal agency that supports the nation's museums and libraries. Through agreement, this site is hosted by the MSU Libraries and therefore is subject to its
privacy statement
. Please feel free to send any comments regarding this site to
digital@mail.lib.msu.edu
.