Title
They Made a Difference: Famous Donors Who Have Helped To Build the Hospital
Creator
Munson Medical Center
Institution
Munson Medical Center
Subject
People of Distinction
Subject
The founders of Traverse City also helped Munson Hospital get its start.
Subject
NULL
Item Number
CK03b003
Relation
NULL
Type
text
Format
tiff
Description
Article in quarterly newsletter with photographs of influential donors to Munson Medical Center including: Perry Hannah, A. Tracy Lay, James Morgan, Hattie Hannah Keeney and Les Biederman.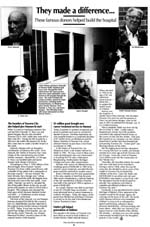 The Making of Modern Michigan
was funded by the
Institute for Museum and Library Services
, an independent federal agency that supports the nation's museums and libraries. Through agreement, this site is hosted by the MSU Libraries and therefore is subject to its
privacy statement
. Please feel free to send any comments regarding this site to
digital@mail.lib.msu.edu
.