Title
Berry Good
Creator
Traverse City Record Eagle
Institution
Munson Medical Center
Subject
Fundraising
Subject
NULL
Subject
NULL
Item Number
CK03a024
Relation
NULL
Type
text, text
Format
tiff
Description
Newspaper photographs with captions: above, while watching the live entertainment, Nicholette Schwietzer, 4, of Traverse City enjoys her strawberry shortcake and ice cream at the annual Strawberry Shortcake fundraiser for the Munson Hospitality House. There were games, a dunk tank, and arts and crafts fair. Top, volunteer Warren Studley tops Tracy Keirsey's shortcake with vanilla ice cream, while fellow volunteer Jack Niesen dishes out the first layer of strawberries.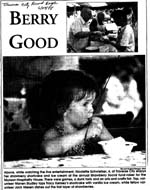 The Making of Modern Michigan
was funded by the
Institute for Museum and Library Services
, an independent federal agency that supports the nation's museums and libraries. Through agreement, this site is hosted by the MSU Libraries and therefore is subject to its
privacy statement
. Please feel free to send any comments regarding this site to
digital@mail.lib.msu.edu
.