Title
Out With the Old, Into the New: Nursing Home Residents Get New Digs.
Creator
Traverse City Record Eagle
Institution
Munson Medical Center
Subject
Hospital Planning
Subject
180 elderly residents and their volunteer escorts move out of the old Medical Care Building.
Subject
NULL
Item Number
CK06c001
Relation
NULL
Type
text, image
Format
tiff
Description
Newspaper article with photographs: left, residents move down the hallway of thier old building which was built in 1958. Below, residents move across the street to their new home in the 140,000 square-foot Grand Traverse Pavilions. The third photograph shows residents making their way into the new facility.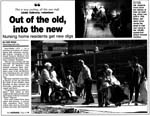 The Making of Modern Michigan
was funded by the
Institute for Museum and Library Services
, an independent federal agency that supports the nation's museums and libraries. Through agreement, this site is hosted by the MSU Libraries and therefore is subject to its
privacy statement
. Please feel free to send any comments regarding this site to
digital@mail.lib.msu.edu
.