Title
Reaction is Mixed to New G.T. Pavilions
Creator
Traverse City Record Eagle
Institution
Munson Medical Center
Subject
Hospital Planning
Subject
Many welcome facility for elderly, but nursing home owners say it's government competition.
Subject
$23 million project offers a range of housing opportunities.
Item Number
CK06c002
Relation
NULL
Type
text, image
Format
tiff
Description
Newspaper article with pictures: Building 21 of the former Traverse City State Hospital is one of the three cottages slated for renovation. Second photo shows the exterior of one of the three former cottages on the grounds of the Grand Traverse Commons to become senior apartments.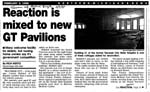 The Making of Modern Michigan
was funded by the
Institute for Museum and Library Services
, an independent federal agency that supports the nation's museums and libraries. Through agreement, this site is hosted by the MSU Libraries and therefore is subject to its
privacy statement
. Please feel free to send any comments regarding this site to
digital@mail.lib.msu.edu
.