Title
Munson Foundation Receives a Gift of $565,000
Creator
Traverse City Record Eagle
Institution
Munson Medical Center
Subject
Fundraising
Subject
Largest single gift is from the Munson Medical Center Auxiliary who pledge $200,000.
Subject
NULL
Item Number
CK03a031
Relation
NULL
Type
text, text
Format
tiff
Description
Newspaper article.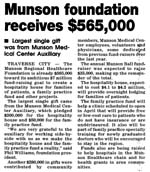 The Making of Modern Michigan
was funded by the
Institute for Museum and Library Services
, an independent federal agency that supports the nation's museums and libraries. Through agreement, this site is hosted by the MSU Libraries and therefore is subject to its
privacy statement
. Please feel free to send any comments regarding this site to
digital@mail.lib.msu.edu
.