Title
Munson Adds 152 Beds and Special Units
Creator
Traverse City Record Eagle
Institution
Munson Medical Center
Subject
Hospital Planning
Subject
CAT scanner addition is part of $12 million expansion and renovation at Munson Medical Center.
Subject
315 bed capacity at hospital as a result of expansion.
Item Number
CK01f032
Relation
NULL
Type
text, image
Format
tiff
Description
Newspaper article with photographs: top; Munson Medical Center's renovated building; right; new Cobolt Therapy Unit; left; new CAT scanner in Munson's Radiology Department.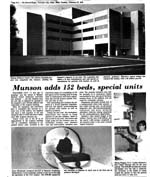 The Making of Modern Michigan
was funded by the
Institute for Museum and Library Services
, an independent federal agency that supports the nation's museums and libraries. Through agreement, this site is hosted by the MSU Libraries and therefore is subject to its
privacy statement
. Please feel free to send any comments regarding this site to
digital@mail.lib.msu.edu
.