Title
Elizabeth Hatton
Creator
NULL
Institution
Loutit District Library
Subject
Hatton, Elizabeth, d. 1918?
Subject
Wives -- Michigan -- Grand Haven
Subject
NULL
Item Number
LH01r043
Relation
NULL
Type
image
Format
jpeg
Description
Elizabeth was the first wife of William Hatton, president of Eagle Ottawa Leather Works. When Elizabeth passed away, he underwrote the cost of converting the former Loutit residence on Fifth St. in Grand Haven to the Elizabeth Hatton Memorial Hospital.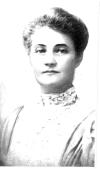 The Making of Modern Michigan
was funded by the
Institute for Museum and Library Services
, an independent federal agency that supports the nation's museums and libraries. Through agreement, this site is hosted by the MSU Libraries and therefore is subject to its
privacy statement
. Please feel free to send any comments regarding this site to
digital@mail.lib.msu.edu
.