Title
Hospital Fund Dinner
Creator
NULL
Institution
Munson Medical Center
Subject
Philantropists
Subject
Five hundred people are expected to hear Dr. Morris Fishbein at the community dinner.
Subject
One of the highlights of the evening will be the acceptance speech by Spencer Mieras.
Item Number
CK03a001
Relation
NULL
Type
text, image
Format
tiff
Description
Newspaper article with photograph of the v-shaped three story wing nearly completed that has been added to James Decker Munson hospital.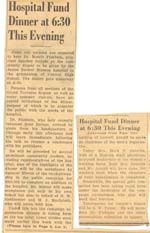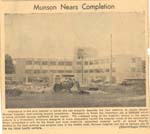 The Making of Modern Michigan
was funded by the
Institute for Museum and Library Services
, an independent federal agency that supports the nation's museums and libraries. Through agreement, this site is hosted by the MSU Libraries and therefore is subject to its
privacy statement
. Please feel free to send any comments regarding this site to
digital@mail.lib.msu.edu
.