Title
Art Cart at Munson
Creator
Traverse City Record Eagle
Institution
Munson Medical Center
Subject
Philanthropy
Subject
This week the Munson Auxiliary inaugurated its traveling art display for patients at Munson.
Subject
Patients have approximately 75 framed prints by master artists.
Item Number
CK03a017
Relation
NULL
Type
image, text
Format
tiff
Description
Newspaper photograph depicting Mrs. Nellie Milks selecting a painting from Auxiliary member Mrs. Bernard Brown, who was operating the art cart.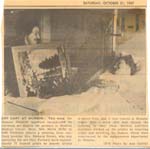 The Making of Modern Michigan
was funded by the
Institute for Museum and Library Services
, an independent federal agency that supports the nation's museums and libraries. Through agreement, this site is hosted by the MSU Libraries and therefore is subject to its
privacy statement
. Please feel free to send any comments regarding this site to
digital@mail.lib.msu.edu
.