Title
Thomas King
Institution
Dickinson County Library
Subject
Portraits
Subject
King, Thomas
Item Number
AF01a169
Relation
Item also published with caption in: Dickinson County, Michigan : from earliest times through the Twenties / compiled and edited by William John Cummings. Iron Mountain, Mich. : Dickinson County Board of Commissioners, 1991. 432 p. : ill, maps, ports. ; 3
Description
Photograph of Thomas ""Tom"" King, perhaps the best-known of the Indians who made their home in Dickinson County, and last chief of the Menominee Indian tribe.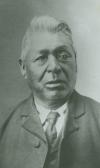 The Making of Modern Michigan
was funded by the
Institute for Museum and Library Services
, an independent federal agency that supports the nation's museums and libraries. Through agreement, this site is hosted by the MSU Libraries and therefore is subject to its
privacy statement
. Please feel free to send any comments regarding this site to
digital@mail.lib.msu.edu
.