Title
Williams Album 0 : p. 93
Institution
Calumet Public School Library
Subject
Football teams
Subject
Independent Order of Odd Fellows
Subject
Scrapbooks
Item Number
AH01a109
Type
image
Format
jpeg
Description
Newspaper clippings on various topics (1914). Page is hand numbered ""93"". -- Article about the mechanics of the Big Ben Clock in London, England. -- 1914 - Annoucement of Calumet High School's football team and it's first game. Puhek is captain. -- 1914 - Announcement of Peter Mihelchich and Robert Gilmore's acceptance to Lawrence College in Appleton, Wisconsin. Also of Mildred Romsdahl's return to Calumet and her role as music supervisor in the Calumet Public Schools. -- 1914 - Annoucement of the Calumet Lodge of Odd Fellows and their departure for Minneapolis to participate in contests in connection with the supreme lodge meeting.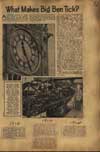 The Making of Modern Michigan
was funded by the
Institute for Museum and Library Services
, an independent federal agency that supports the nation's museums and libraries. Through agreement, this site is hosted by the MSU Libraries and therefore is subject to its
privacy statement
. Please feel free to send any comments regarding this site to
digital@mail.lib.msu.edu
.