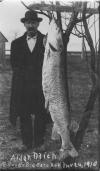 Title
E. Rose's Big Catch
Date
c. 1910
Subject
Fishing
Description
Black and white photo of E. Rose standing next to his big catch, a very large fish trussed to a tree...
View Details

Title
Wannigan near Alden
Date
c. 1904
Subject
Logging
Description
p1: Black and white photo of 'about 7000 cords of wood' on the banks and a wanigan (floating boardi...
View Details

Title
Coy Store fire
Date
c. 1940
Subject
Fires
Description
Five black and white photos of the former Coy Mercantile store after it burned but was still smoking...
View Details
78 Results

<-- Previous 1 2 3 4

The Making of Modern Michigan
was funded by the
Institute for Museum and Library Services
, an independent federal agency that supports the nation's museums and libraries. Through agreement, this site is hosted by the MSU Libraries and therefore is subject to its
privacy statement
. Please feel free to send any comments regarding this site to
digital@mail.lib.msu.edu
.