Title
Shirley and Norma Hacker
Creator
NULL
Institution
Sterling Heights Public Library
Subject
Sterling Heights (Mich.)--History--Hacker Family
Subject
NULL
Subject
NULL
Item Number
EF01b042
Relation
NULL
Type
image
Format
jpeg
Description
Shirley Hacker (1929-1982) and Norma Hacker standing in front of barn and silo, with 2 dogs. Shirley and Norma are sisters.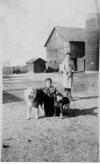 The Making of Modern Michigan
was funded by the
Institute for Museum and Library Services
, an independent federal agency that supports the nation's museums and libraries. Through agreement, this site is hosted by the MSU Libraries and therefore is subject to its
privacy statement
. Please feel free to send any comments regarding this site to
digital@mail.lib.msu.edu
.