Title
Emin Backus with chicken feed bucket
Creator
NULL
Institution
Sterling Heights Public Library
Subject
Sterling Heights (Mich.)--History--Farms--Backus Farm
Subject
Sterling Heights (Mich.)--History--Backus Family
Subject
NULL
Item Number
EF01b129
Relation
NULL
Type
image
Format
jpeg
Description
Emin Backus (1890 - 1969) feeding chickens and ducks on Backus Farm, 7447 17 Mile Rd., west of Van Dyke. The Backus family ran the Backus Car Wash very near the site of their farm.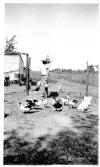 The Making of Modern Michigan
was funded by the
Institute for Museum and Library Services
, an independent federal agency that supports the nation's museums and libraries. Through agreement, this site is hosted by the MSU Libraries and therefore is subject to its
privacy statement
. Please feel free to send any comments regarding this site to
digital@mail.lib.msu.edu
.