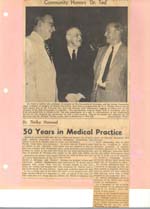 Title
Dr. Thirlby Honored after 50 Years in Medical Practice.
Date
1953-07-30
Subject
People of Distinction
Description
Newspaper article with photograph of Dr. Fred A. Coler, left, Professor of Surgery at the University...
View Details
1 Results



The Making of Modern Michigan
was funded by the
Institute for Museum and Library Services
, an independent federal agency that supports the nation's museums and libraries. Through agreement, this site is hosted by the MSU Libraries and therefore is subject to its
privacy statement
. Please feel free to send any comments regarding this site to
digital@mail.lib.msu.edu
.