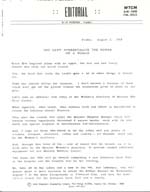 Title
Les Beiderman WTCM Editorial :"You Can't Overestimate the Power of a Woman"
Date
1968-08-02
Subject
Fundraising
Description
Radio broadcast editorial text from Les Biederman, President of WTCM Radio.
View Details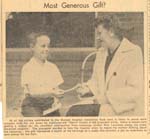 Title
Most Generous Gift
Date
1952-09-03
Subject
Philanthropy
Description
Newspaper photograph of Steve Kelsch and Mrs. Laurence Jones.
View Details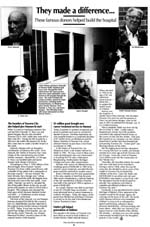 Title
They Made a Difference: Famous Donors Who Have Helped To Build the Hospital
Date
1990
Subject
People of Distinction
Description
Article in quarterly newsletter with photographs of influential donors to Munson Medical Center incl...
View Details
3 Results



The Making of Modern Michigan
was funded by the
Institute for Museum and Library Services
, an independent federal agency that supports the nation's museums and libraries. Through agreement, this site is hosted by the MSU Libraries and therefore is subject to its
privacy statement
. Please feel free to send any comments regarding this site to
digital@mail.lib.msu.edu
.